| | |
| --- | --- |
| | |
| | |
| --- | --- |
| | |
| | |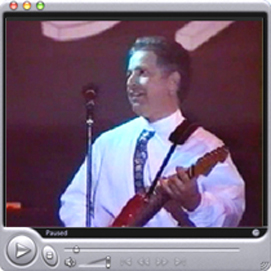 On the morning of the 24th of May 2006 my friend Silvio Beltrami rang me and in a broken voice gave me the news that I would never have wanted to hear: Roberto had left us forever, after battling for a long time against an uncurable illness that had at times shed its weight on him physically but never managed to beat him mentally, being always concentrated on future projects and searching for new things to do and discover.

I suddenly felt disconnected, completely lost; the thought that from now onwards, after dialling his number in Santa Croce, near Florence, I would only have heard his recorded voice on the answering machine, gave me an endless feeling of bitterness.

I had lost a friend, a companion on the various "expeditions" we did, but most of all a kind of elder brother who had always helped me to solve all the problems that occurred daily. His refined capacity as a guitar expert, both as a maker and repairer and his immense knowledge of everything concerning valves were both known and respected internationally, to such a stage that the most famous Vintage Guitar Shop in the entire world, George Gruhn (Nashville, USA) -

www.gruhn.com

- wanted Roberto to become part of its staff.

ROBERTO WITH SILVIO BELTRAMI
There is not one vintage guitar in Italy that hasn't been to his laboratory for his opinion and I have personally seen customers holding their breath in the hope that Roberto didn't find something on their latest treasure that had been faked.
Roberto also designed and produced two marvellous valve amplifiers, the "Mojo" (30 watts in the same style as the Vox AC 30 with twin speakers) and the "MiniMojo" (15 watts) of which only one prototype exists that both delighted those who were fortunate enough to have had the pleasure to have heard and tried them at the various
Second Hand Guitar Shows
in Italy (Milan and Ancona) -
www.accordo.it
And what can be said about his wonderful Spacecaster (S model) and Skycaster (T model) guitars?
| | |
| --- | --- |
| | |
| ROBERTO AND HIS "MOJO" AMPLIFIER AT THE SECOND HAND GUITAR SHOW IN MILAN | THE INSIDE DETAILS OF THE "MOJO" AMPLIFIER |
I really envy all those fortunate enough to have one, and it is a terrible pity that the numerous customers waiting patiently to have one of these guitars will never again have the pleasure to see the "Grand Master Of The Guitar" build them.
Another story that needs to be told is the role that Roberto played in the world of The Shadows, the spark that set him off and driving force that inspired him down the road in his musical adventure.
Like so many of you he started playing the guitar after being bewitched by "that sound" which he pursued right through to his last days, he experimented with all that was experimentable and has left an infinite amount of very important information.
Who else, apart from Roberto, would have got on a plane to New York in search of an English gentleman called Malcolm Addey, the once sound engineer at Abbey Road and responsible for all the Shadows recordings done there from 1958 al 1966 and manage to enthuse him so much as to convince him to co-write a book about the sound of The Shadows?
The book called, you guessed it, "That Sound" in English and complete with CD, is a very interesting source of news and contains vital advice that enables guitarists to get close to that wonderful as much as elusive (and unrepeatable) sound of the first Marvin period.
| | |
| --- | --- |
| | |
| ROBERTO WITH MARCO MANUSSO | THE COVER OF ROBERTO'S BOOK "THAT SOUND" |
But his research went even further, up to the point where he created a small pedal unit that he called, as suggested by his dear friend Jim Nugent, "ARIAB" (Abbey Road In A Box), a bass-cut filter that emulates the control panel interventions carried out by Malcolm Addey during the recording Marvin's of guitar work.
| | |
| --- | --- |
| | |
| PROTOTYPE OF THE "ARIAB" PEDAL | THE "ARIAB" PEDAL |
Roberto was in the big league when spreading the culture of the vintage guitar in Italy and founded the "Nashville" magazine with his friends Paolo Canevari and Alberto Biraghi, the first publication of its kind in our country. The Second Hand Guitar Shows - www.secondhandguitars.com - were also started by them and today these represent a twice-yearly appointment in the guitar world.
Naturally the presence of Roberto always meant that guitar fans from all over the country came to ask him to have a look at this, that or the other guitar, effects pedal or amplifier because everyone knew that he was capable of giving an honest opinion and they all trusted his judgement.

ROBERTO WITH ALESSANDRO TONINI AND MAYERLIN AT THE SECOND HAND GUITAR SHOW IN MILAN
In the booklet for the November 2006 Second Hand Guitar Show held at the Alcatraz Club in Milan, a very special eight-page coverage was given to Roberto in an insert incorporated in his honour with the participation of several of his friends who had shared unforgettable moments with him.

A copy of this (in Italian) can be downloaded in PDF format by clicking here.

Anyone who wants a copy and cannot download this for any reason, can contact me by e-mail at: tonini.giuseppe@fastwebnet.it

Roberto made a lot of friends and gained much respect in England and France and it could not have been otherwise.
| | |
| --- | --- |
| | |
| ROBERTO WITH WARREN BENNETT, BRIAN'S SON | ROBERTO WITH BRUCE WELCH OF THE "SHADOWS" |
Those who criticized him after the release of his book "That Sound" gradually came to recognize him as a profound expert in "The World of The Shadows" and some even came to visit him in Italy to delve even further into his theory, and those from over the channel who met him immediately became intrigued by his personality and knowledge.
Jim Nugent, a living encyclopaedia of the Shadows became a very close friend of Roberto and when he heard of his tragic death didn't hesitate to drive twenty-four hours non-stop to Italy to give Roberto a last goodbye both on his behalf and that of all Roberto's English friends.
| | |
| --- | --- |
| | |
| ROBERTO TRYING TO FIND THE RIGHT ROAD WITH JIM NUGENT | ROBERTO WITH JIM NUGENT AGAIN |
| | |
| ROBERTO WITH DAVE ROBINSON | ROBERTO IN RAMBOUILLET, FRANCE - APRIL 2006 |
One of the things I like to recall very proudly is having arranged a meeting, five years ago in Ancona, between two people who just had to meet: Roberto and Gary Stewart Hurst
(Gary the Fuzzman)
, the inventor of the Tone Bender fuzz unit of the '60s used by such greats of the guitar as Jeff Beck, Jimmy Page, The Beatles, Stevie Winwwod and others. Each recognised the other as a special person and their friendship was bound to grow. I shared some really beautiful times with them. Just try and imagine the Tuscany dialect mixed with that of a Brit who's been transplanted in Italy for longer than he can remember.
They were like Ying and Yang or ebony and ivory; to say it as Paul McCartney would, "living in perfect harmony". They were something like Walter Matthau and Jack Lemmon in their last films, always have a go at each other in a light hearted way.
ROBERTO WITH GARY STEWART HURST AT THE SECOND HAND GUITAR SHOW IN ANCONA IN 2002
But not all is lost: Roberto managed to pass down his passion, his knowledge and his way of looking at life to a youngster from Catania in Sicily who some years back felt the need to make the journey to Santa Croce, where Roberto lived, with his rucksack on his back, for the first of many visits he would make to "The Master" in Tuscany in order to learn and listen to the sound of the various types of wood and to look for valves in the ex-military surplus warehouses (testing them out to find the good ones). That youngster was Giuseppe Orlando -
www.orlando-guitars.com/history.html
- who, fortunately for all of us and thanks to Roberto, maintains the traditional way of guitar and amplifier making.
| | |
| --- | --- |
| | |
| ROBERTO WITH GIUSEPPE ORLANDO FROM CATANIA, SICILY | THE GREAT MASTER AT WORK |
The terrible news of Roberto's death spread very quickly because everyone felt they just had to pass it on to everyone else, showing how much he was in the heart of everyone he had met and made friends with. It is witness enough to read how many people felt the need to show their grief on the various forums.
Original text by Alessandro Tonini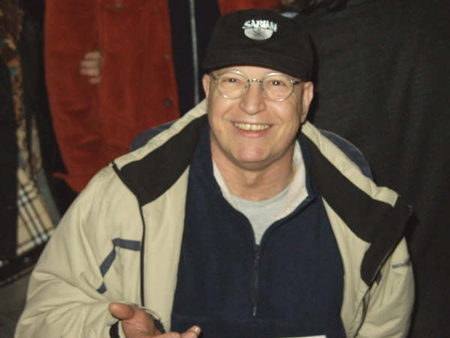 Thanks, Roberto!
I want to remember you like this, playing your guitar with a smile on your face and surrounded by people who loved you.
English translation by Gary Stewart Hurst